MY BEGINNINGS
Born & raised in Manhattan (New York City) with 2 older brothers. My father was a wonderful commercial artist and my mother, a terrific stagemother. We enjoyed every summer at our family's 2-acre cottage on Long Island. Great childhood memories include jaunts to Montauk Point, Fire Island, the Hamptons, Smith Point and Lake Ronkonkoma.
We were members of the local beach club & had lots of friends & family to share the fun. There was card-playing on the porch, drive-in movies, Bingo, bike riding, deep-sea fishing, crabbing, and always stopping off at the side of the road for the freshest goodies of the day -- strawberries, sweet corn, tomatoes, clams -- you name it. Plus, there was croquet, baseball, volleyball, gardening, and guitar playing.
Never a dull moment growing up in New York. My brothers were child actors on Broadway and I took all kinds of lessons: singing, tap dancing, ballet, and acting. But, I soon realize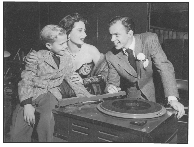 d 'show biz' was not for me (as we all did). I was more interested in art and design and I'd always find myself dabbling in artsy things, whether it was a pastel or charcoal drawing, designing clothes for my Barbie doll or rearranging the furniture to look like a model home. To my amazement, I won several city contests for my artwork.

Attended high school at Holy Cross Academy and college at St. John's University. Began working at the age of 15 and had great summer and permanent jobs ever since, including Administrative Asst. in New York's fashion center, personal assistant to a commercial real estate broker, Gal Friday at a motion picture service center, Administrative assistant for a legal firm in New York's Criminal Court Building, Reservationist at Delmonico's (luxury Park Avenue hotel) which was also Ed Sullivan's permanent residence and a favorite place to stay for many visiting celebrities.

F

or 7 years, I worked for one of the leading advertising agencies in the world, Young & Rubicam, as their night center's supervisor and proofreader. Wonderful people -- they played hard and worked hard! I'll never forget them. This was a second job for me, but I liked it so much that I stayed longer than expected! CALIFORNIA, HERE I COME!

For 12 years, I worked for a steambath manufacturer where my job responsibilities ran the gamut, from Executive Secretary to the President, National Sales Coordinator, Marketing Coordinator and finally, West Coast Sales & Operations Manager. And this is how I ended up in southern California. The president of this company told me he needed to send someone he can trust to launch their new west coast operations. So he moved me out here and I started from practically scratch, managed it for 6 years, and successfully increased sales by 400%, making us "#1" on the West Coast.

GO NORTH, YOUNG WOMAN. GO NORTH!

Then I met my to-be husband , a production manager at Douglas Aircraft (now The Boeing Company). We felt it was time to be our own bosses (after all, we both treated our jobs as if they were our own businesses). After 2 years of marriage, we cashed in everything we had and bought a drive-thru restaurant up in the redwoods (Arcata, California). That was very successful and lead us to a new endeavor -- converting an old Eureka coffee shop to a "50's" Diner. A
nd that was outstanding! It was popular, fun & exciting, but don't kid yourself -- hard work. We pretty much gave up on having a personal life and where else would we go to eat? We had the best food in town! After 6 years, we sold the business. My husband went to work for a recycled glass manufacturer and I worked for a family-owned real estate office. And I believe I finally found something I'm crazy about -- helping people buy and sell real estate. Homes are very important. And I like being a part of "making it all happen."
BACK IN THE SADDLE
After being up in Eureka for 8 years, we decided it was time to come home to southern California. Our families are here and we were just too far away. We sold our home & here we are.
---